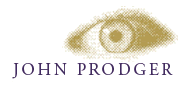 If you want to earn the maximum amount of money working in the electronics industry then be an executive manager, working in the components sector, based in London.
According to the 2007 salary survey, conducted by Electronics Weekly and sponsored by recruitment consultant John Prodger Recruitment, this combination should result in the highest salary possibility.
The average salary for executive management comes in at £57,280. For the components sector the average wage is £46,920 and for London it comes in at £42,920.
Conversely, the lowest wages are in the middle of the country with Wales, the Midlands, Yorkshire and Northern England sitting around the £35,000 average mark.
Design fares worst in the market sectors with an average of £35,640, while the worst paid profession is purchasing, which pulls in an average of £27,970.
But overall it is looking good to be in the technology sector.
According to the latest figures from the UK's Office for National Statistics the occupations with the highest earnings in the UK in 2006 were 'health professionals' with a median pay for full-time employees of £1,038 a week. This was followed by 'corporate managers' (£688) and, in third place, 'science and technology professionals' (£662).
Average Salary
While the last EW salary survey in 2005 showed an average wage of £36,540, two years down the line this has increased by £3,000 to £39,540.
Could it actually be that the skills shortage is having a positive effect on engineer's wages? After all, the more rare something is, the more desirable it becomes and its price increases.
The good news is more people in engineering are earning more money than two years ago. The shift seems to occur around the £30,000 mark.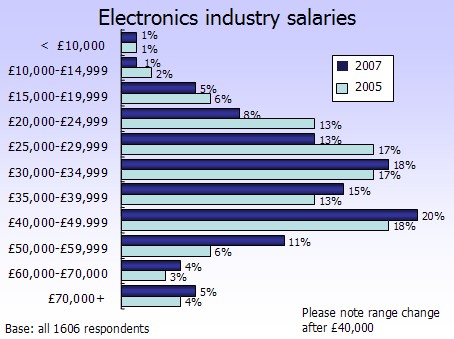 Two years ago 61 per cent of respondents earned £30,000 or more. In this year's survey 73 per cent earn £30,000 or more.
Those earning less than £20,000 has fallen from nine per cent to seven per cent. Meanwhile the percentage of respondents that earned more than £60,000 rose from seven per cent to nine per cent so it seems the balance is shifting.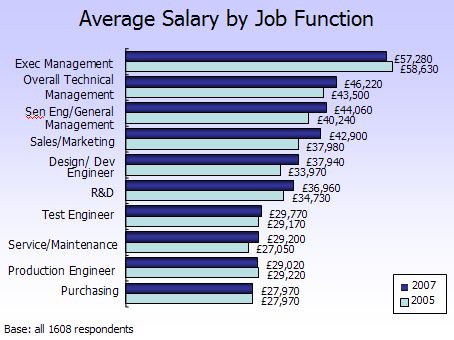 Management roles take the top three places when salary is related to job function, coming in well above the £39,540 average salary. Sales/marketing also sneaks in above average wage, while design/development, R&D and test engineers come next but, crucially, all fall below the average wage.
Service/maintenance, production engineers and purchasing prop up the bottom of the table.
Sector Salary Statistics
Components is the highest paying sector – the same as two years ago with an average of £46,920 this year, up from £43,140.
The computer sector previously held second place, but communications has leap-frogged it this year with £42,710 versus computer's £41,480.
Broadcast (£40,400) and automotive (£38,960) have retained positions four and five while design (£35,640) has fallen from sixth to the bottom of the pile. Which means control systems (£36,860) and avionics/defence/military/security (£36,190) sectors have each moved up a place.
Pay Rise Heaven
The engineering community enjoyed an average salary increase of 3.2 per cent at the last review. This is not quite as good as the latest figures, for February 2007 from the Office for National Statistics, which found average earnings, excluding bonuses, had risen by 3.6 per cent.
However, the EW survey found 42 per cent put their increase between three and four per cent. Just over a quarter received one to two per cent while 13 per cent received no pay rise.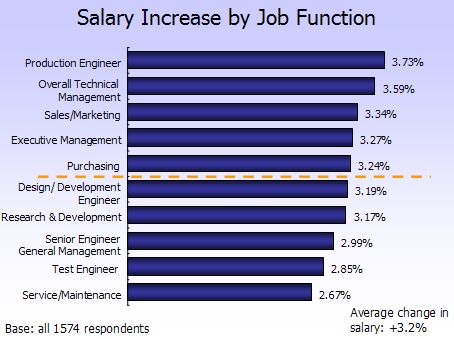 At the more generous end, nine per cent received a five to six per cent rise, five per cent got seven to ten per cent and a lucky four per cent got an increase of 11 per cent or more. At the other extreme, one per cent said their income had fallen by five per cent or more.
For once, when it comes to jobs, one of the lower paid jobs actually got the biggest rise – production engineers received an average 3.73 per cent increase. Following this is the inevitable 'overall technical management' (3.59 per cent), sales/marketing (3.34 per cent), and 'executive management' (3.27 per cent).
Even purchasing managed an above the average increase of 3.24 per cent.
Falling below the average 3.2 per cent are design/development engineers (3.19 per cent ), R&D (3.17 per cent), senior engineer/general management (2.99 per cent), test engineers (2.85 per cent) and service/maintenance (2.67 per cent).
Rises by Sector
Despite changes in the order of the 'salary by sector', the pay rise by sector does not follow the same pattern.
While communications holds second place in the sector salary stakes it is bottom when it comes to the pay rise with just 2.8 per cent. In fact the place to be if you want bigger than average rises is automotive with 3.5 per cent.
Broadcast (3.49 per cent), controls (3.41 per cent), components (3.27 per cent) and design (3.25 per cent) all weigh in above the average. Computers (3.11 per cent) and avionics/defence/military/security (3.05 per cent) come in below.
The predicted pay rise at the next review averages out at 2.96 per cent. The majority (43 per cent) expect an increase of three to four per cent with 27 per cent expecting one to two per cent. No change is expected by 13 per cent – the same number that saw no change this year. No one is predicting a decrease.
Other Factors
While salary is obviously important – it pays for food and shelter – it is too simplistic to narrow a job's appeal down to how much money it pays. Human beings are far more complex.
"We find that many engineers registering with us mentioned potential salary increases as the spur to starting their search for a new job", says Kay Alexander, divisional manager at John Prodger Recruitment. "But a role that interests them technically is also key to the decision to attend for interview. As a move becomes a real possibility the challenge, prospects and salary become more evenly matched".
Which is shown by the top placing of 'challenging/interesting work' – with an average score of 4.33 – when respondents were asked to give factors a one to five rating for importance in a job, with five being extremely important.
'Recognition of work done' scores a 3.97 while 'freedom to make decisions' rates 3.96.
Salary comes lower than these although still scoring 3.91. You have to consider though that the other factors only get a look in if the salary is considered reasonable. Very few people would, or could afford to, take a fabulous, challenging and interesting job for minimum wage.
'Job security' and 'relationship with colleagues' both score 3.88. Which raises an interesting question about changing jobs – how can you tell if you are going to get on well with colleagues in a new job?
Running down the list, adequate resources, location, career prospects, degree of responsibility, holiday entitlement, physical working environment and training all score three point something.
'Fringe benefits/perks' only manages 2.87 while 'above average relocation costs' seems to have the least appeal, scoring a 2.13. Perhaps engineers just do not want to be greedy?
Salary History
To view the previous Electronics Weekly Salary Survey results, please visit:
Part One: Salary survey: where do you stand?
Part Two: Perks and benefits
Facts and figures
The Electronics Weekly salary survey was carried out by EW in association with John Prodger Recruitment, part of the Jonathan Lee Group. In March of this year 1,361 respondents completed a questionnaire in order to quantify salary and benefits within the electronics industry. The survey results were analysed by an independent research company.