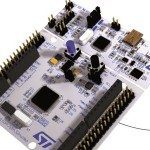 According to Stephen Carr, vice president technical and vertical of Future Electronics, the STM32 Nucleo boards are "a fantastic resource for designers because they can use the familiar mbed tools to design for any STM32 microcontroller, and also connect the boards to Arduino peripherals".
The STM32 Nucleo-F030R8, STM32 Nucleo-F103RB, STM32 Nucleo-F401RE and STM32 Nucleo-L152RE boards are available immediately on the FTM Board Club, free to qualified OEM engineers in Europe and other parts of the EMEA region.
For more see the Distribution World blog.