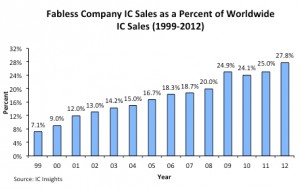 Over the long-term, it believes, fabless IC suppliers, and the IC foundries that serve them, will continue to become a stronger force in the total IC industry.
The figures come from the latest IC Insights research bulletin comparing fabless IC company sales growth with IDM (integrated device manufacturer) IC supplier growth.
Fabless company IC sales growth always outpaced IDM IC sales growth (or the decline was less severe), the company notes – except for 2010. For the first and only time on record, they say, in 2010 IDM IC sales growth (35%) outpaced fabless IC company sales growth (29%).
Since very few fabless IC suppliers participate in the memory market, they did not receive a boost from the surging DRAM and NAND flash memory markets in 2010, which grew 75% and 44%, respectively. Another reason for the relatively poor showing by the fabless IC segment in 2010 was that some of the large fabless IC suppliers like MediaTek and ST-Ericsson registered growth that was less than half the total 2010 IC industry average.

However, the fabless IC suppliers once again grew faster than the total IC market in 2011 by registering a 5% increase as compared to a 1% decline in sales for the IDM companies. In 2012, the fabless IC suppliers grew by 6%, 14 points better than the 8% decline registered by the IDMs and 10 points better than the 4% decline shown by the total IC market.
Data in the research bulletin comes from the April Update to the 2013 edition of IC Insights' flagship report, The McClean Report – A Complete Analysis and Forecast of the Integrated Circuit Industry.
See also: China IC Market Growing 13% CAGR 2012-17; Production Growing 16.5%