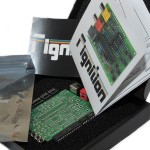 FIGnition is available from RS Components as a kit of parts comprising a bare PCB and a set of components including an 8-bit 20MHz ATmega328 microcontroller, a 512kbyte flash memory chip and an 8kbyte RAM device.
The computer comes pre-loaded with the Forth programming language, which is a good learning tool for running computer code.
The inspiration behind FIGnition, for creator Julian Skidmore, was the earlier generation of 8-bit computers such as the Sinclair ZX80, which gave many of today's electronics engineers their first taste of hardware design.
FIGnition inFUZE comes with a set of sample programs including games and utilities pre-programmed into the flash memory chip.
There is an analogue data logger which can be used to connect up simple sensors and graphically display the measurements.
All source code is visible allowing students to experiment by modifying existing code before moving on to create their own.
Power is supplied via a USB port, and the board connects to a PAL or NTSC format TV displaying a 25 x 24 text or 160 x 160 bitmapped graphic image. No external keyboard and mouse are required to get started: all commands and programming can be executed easily using the on-board eight-key keypad.