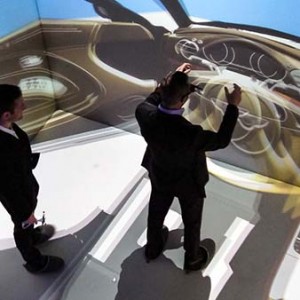 The aim is to "evaluate the lighting systems in close-to-reality dynamics driving conditions," said Honda.
In the headlamps development, to validate the performance and the quality of the exterior lamps, it is common to perform the night test drive with a real vehicle equipped with headlamp prototypes. At this final stage of development, we usually find various problems.
For example, the unhomogeneities as hotspot, dark, and irregular strips can be detected only under certain driving and lighting conditions and as a result defects are usually identified at the final stage of development process with development cost implications.
The real time light simulator supplied by Optis and known as VRX creates a virtual model based on physical properties such as measured lighting data, source spectrums, environmental and road reflecting properties.
VRX has a simulation features linked to MATLAB / Simulink in order to simulate an intelligent lighting system such as ADB (Adaptive Driving Beam).
According to the car maker, future plans include quantifying the dynamics of human eye and by incorporating them as filters. This will allow car lighting designers to visualise variable scotopic and photopic vision, and glare effect, and to realise more realistic visual expressions.
"On the process of lighting development, we are strongly reducing the risk to find problems too late in the development process. By quickly, early and easily simulating various alternatives, we are highly improving our products quality and cost," said Honda.
Related news:
Google drives Android into cars with Open Automotive Alliance