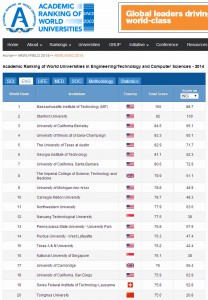 We wrote about the 2013 compilation last year in August and the ARWU (Academic Ranking of World Universities) has now been released for 2014, by the Center for World-Class Universities at Shanghai Jiao Tong University.
Overall, Harvard retains it's number one position, with Stanford, MIT, Berkeley, Cambridge, Princeton, Caltech, Columbia, Chicago and Oxford accounting for the top ten.
More interestingly, the Shanghai body does provide breakdowns by subject, and you can find the 2014 Engineering/Technology and Computer Sciences ranking online (and pictured), where Imperial College flies the flag for the UK in the global top ten.
The UK entries, for engineering (with overall ranking in brackets):
The Imperial College of Science, Technology and Medicine (8)
University of Cambridge (17)
University of Bristol (51-75)
University of Oxford (51-75)
University of Southampton (51-75)
The University of Manchester (76-100)
University College London (76-100)
Brunel University (76-100)
The University of Sheffield (101-150)
University of Birmingham (101-150)
University of Warwick (101-150)
University of Leeds (151-200)
University of Liverpool (151-200)
University of Nottingham (151-200)