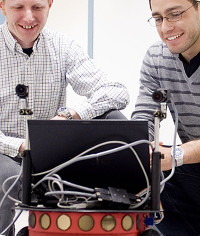 The idea is that work robots could successfully navigate the real world – basically "interact fully and safely with their surroundings" – and key to this is developing robots that can process visual information in real-time.
"The world could be moving towards a new era where robots for the house and business could be used to make our lives more efficient, cost effective and easier," said Professor Andrew Davison, from Imperial's Department of Computing, and the Director of the new centre.

"However, in order to get there we need to develop technologies that free up robots from the factory floor so that they can be used more effectively in our homes. We aim to attract some of the brightest minds to come and work with us at the centre to make this future a reality."
The Imperial researchers have apparently already carried out extensive laboratory research using computer vision technology to model the real world in 3D, using low cost conventional video cameras. The goal is now for robots not only determine the layout of a room, but also distinguish between objects and determine their purpose.
"My generation believed that the world would be overrun by robots by the year 2014," said Sir James Dyson. "We have the mechanical and software capabilities, but we still lack understanding – machines that see and think in the way that we do. Mastering this will make our lives easier and lead to previously unthinkable technologies."