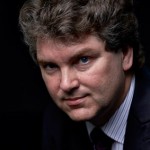 It says such fibre carries over 99 per cent of all our network data, and the project is to receive £1.5m in funding.
The project apparently involves using a balance of digital, analogue electronic and optical processing, which means they can "transmit signals over an optical fibre with enough bandwidth to simultaneously support a million mobile phones operating at the same time while also halving energy consumption of optical transponders".
"Since the introduction of direct dialling in 1950 we have seen a long succession of applications affecting our network capacities," says Professor Andrew Ellis. "The boom in smart phone and tablet use is the latest phenomenon currently fuelling growing bandwidth. To facilitate the long-term exponential expansion of bandwidth, optical intensities at the core of optical fibres have been steadily increased. However, they have been amplified to such an extent that they are now more intense than sunlight at the surface of the Earth's atmosphere, which results in significant signal distortion. It is this distortion which limits the amount of data which can be transmitted, leading to capacity crunch.

This capacity crunch, if allowed to happen, could seriously impact upon the internet's future growth. This could lead to increased price or bandwidth rationing, both of which have undesirable consequences for society and the economy."
The PEACE project is part-funded by a £1.1m grant from the Engineering and Physical Sciences Research Council.