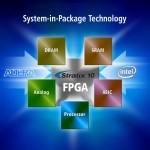 The heterogeneous multi-die devices incorporate 3D silicon technology and Intel's 14nm Tri-Gate (finfet) process technology.
Intel is already manufacturing Altera's Stratix 10 FPGAs and system-on-chip devices (SoCs) using the 14nm Tri-Gate process.
Intel and Altera are currently developing test vehicles aimed at streamlining manufacturing and integration flows.
"Our partnership with Altera to manufacture next-generation FPGAs and SoCs using our 14nm Tri-Gate process is going exceptionally well," said Sunit Rikhi, vice president and general manager, Intel Custom Foundry.
"Our close collaboration enables us to work together in many areas related to semiconductor manufacturing and packaging," said Rikhi.
Together, both companies are building off one another's expertise with the primary focus on building industry-disrupting products."
According to Brad Howe, senior vice president of R&D at Altera, access to Intel's manufacturing and chip packaging capabilities is allowing the FPGA supplier to offer system-in-a-package products which are "critical to meeting overall performance requirements."
Related news:
Altera: 14nm Stratix and 20nm Arria FPGA details