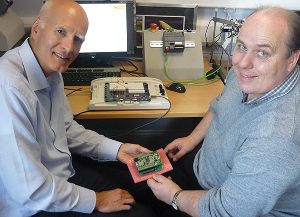 The aim of the module is to keep student engineers informed of updates to the RoHS (Restriction of Hazardous Substances) legislation that requires environmentally harmful substances to be removed from electronic products.
The RoHS module will require completion of general background reading, review of specific guidance notes provided by Farnell element14 and a report explaining how knowledge of the legislation provided by the module has been applied by the student in a design project.
"We want to ensure all of our courses are relevant to industry and that our students achieve employment," said Dr Stephen Wilkinson, principal lecturer in the School of Computing, Creative Technologies and Engineering, Leeds Metropolitan University, pictured (left) with Gary Nevison of Farnell element14.

"We are hopeful that this new module will be just the first of many that we can develop with Farnell element14 and other businesses."
The module will carry credits towards the University's MSc in Advanced Engineering Management and be available from February 2014.
Richard Wilson