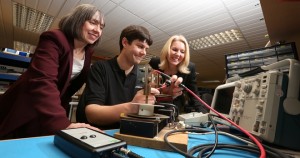 PEM writes:
KTP is a long-standing programme, funded in part by the Technology Strategy Board, that uses the knowledge and technology of universities to help successful SME businesses to improve their competitiveness, productivity and performance.

The KTP will involve working with world leaders in wideband Rogowski technology, PEM, and the internationally renowned Power Electronics, Machines and Controls Group at the University of Nottingham. Two post graduate/doctoral engineer positions are available.
Applications for these research posts, can be found on the University of Nottingham's recruitment pages. Note registration is required to access the site.
"We were very pleased at how simple The University of Nottingham made the process of applying for the KTPs and to get both projects approved is excellent news," said Chris Hewson, Chief Executive of PEM. "We are now looking forward to progressing these exciting new developments."
According to Nottingham University:
A UK-wide programme, KTPs taking part in the scheme typically receive between £80,000 and £120,000 in funding in order for them to work with a University. On average, the pre-tax profits of businesses taking part in the KTP programme increase by over £250,000.
Image: Left to right: Andrea McCluskey (Business Development Executive for KTPs); Chris Hewson (Chief Executive of Power Electronics Measurements) and Nicola Moules (Business Development Executive for KTPs)