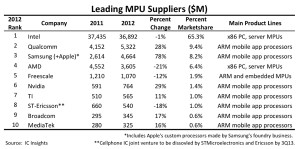 Qualcomm is now the second largest vendor of MPUs with a 9.4% market share with Samsung (+Apple) as No.3 on 8.2% market share, while AMD has dropped back to fourth place with an MPU market share of 6.4%.
Of course the lion's share is taken by Intel with a 65% share which dipped by only 1% in 2012. Intel's market share was 68.6% in 2010 and 67.3% in 2011.
Samsung/Apple MPU revenue rose 78% last year to $4.7 billion – 83% of which came from Apple, while Qualcomm grew MPU revenues 28% to $5.3 billion..
However AMD slumped 21% on the back of a slowdown in notebook and desktop personal computer purchases coupled with strong growth in smartphones and tablet PCs. AMD had been No.2 behind Intel since the 1990s. AMD had 9.6% share in 2010 and 8.2% share in 2011.
Top Ten MPU Vendors 2012
$bn
Intel 36.9
Qualcomm 5.3
Samsung/Apple 4.7
AMD 3.6
Freescale 1.0
Nvidia 0.76
TI 0.57
ST-Ericsson 0.54
Broadcom 0.35
MediaTek 0.33
.
The $56.5 billion microprocessor market continued to be the largest single semiconductor product category in 2012, accounting for 22% of total IC sales.
However, microprocessor sales growth slowed to 2% in 2012 following a 19% increase in 2011.
IC Insights is forecasting a 10% increase in total MPU sales in 2013 to $62.0 billion.
During 2012, strong increases in mobile application processors used in cellphones and tablet PCs offset a 6% decline in MPU sales for desktop and notebook PCs, servers, and embedded-processor applications.
Between 2012 and 2017, total MPU sales are projected to grow at a compound annual growth rate (CAGR) of 12%, reaching $97.7 billion in the final year of the forecast.
SoC application processors in cellphones accounted for 22% of worldwide MPU sales in 2012 compared to 14% in 2010, while tablet microprocessors represented 4% of the total in 2012 versus a little under 1% in 2010, which was the year Apple launched its first iPad products and dramatically changed portable computing in the consumer PC market.