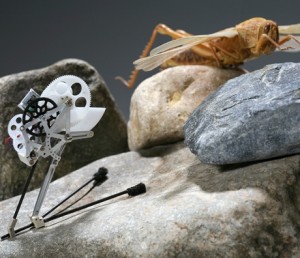 Natasha Martineau writers:
The Robotics Network will bring together all the basic and applied robotics research being carried out by Imperial College London researchers. The network involves more than 15 separate groups from the departments of aeronautics, bioengineering, computing, electrical engineering, and mechanical engineering. The research areas include: mechatronics systems design and control; autonomous systems and artificial intelligence; medical and rehabilitation robotics; computer vision; neuromechanics, and social robotics.
A dedicated Robot Zone has been created for the first time at the Festival. Also there is a talk , The Future of Robotics, which will launch the new network at 5pm today, in the Sir Alexander Fleming Building, South Kensington Campus.
"It is very exciting to be launching the Robotics Network at Imperial Festival," said Dr Jenna Stevens-Smith, from Imperial's Department of Bioengineering. "I think Festival visitors will be fascinated to see all the ways that robots can make a difference to the way we live – often in the most unexpected ways."
Read more on the Imperial College London Robotics website »
See also: Imperial extending the workspace of robots to homes
Image: Bio-inspired jumping robot developed by Dr Mirko Kovac