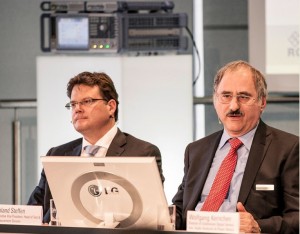 The German test firm is investing in its global sales and marketing activities and it will this year set up new R&D centres in the US and China.
Rohde & Schwarz is also expanding its product portfolio with plans to launch a number of new products this year.
These will build on the company's strong position in the mobile communications test sector and will capitalise on the roll-out of 4G LTE-Advanced technology around the world.
The company will also add products to address new markets and it will add to its offerings of lower-priced instruments.
It started this month with the launch of the SMW200A high-end vector signal generator for wireless communications test including LTE-Advanced mobile and IEEE802.11ac Wi-Fi. It is notable because it combines baseband and RF generators with a multiple-input and multiple-output (MIMO) fading simulator in a single instrument.
"Half of the test market is in the communications sector and mobile has been the biggest driver to growth for the company," said Roland Steffen, head of test and measurement division (pictured right with Christian Leicher, president and COO).
"Every second phone in the in the world is tested on our test sets," said Steffen.
In line with the company's plan to expand its presence in global markets, the SMW200A supports a range of international standards including LTE, LTE-Advanced, 3GPP FDD/HSPA/HSPA+, GSM/EDGE, TD-SCDMA, CDMA2000/1xEV-DO and IEEE 802.11a/b/g/n/ac.
Significantly it simplifies the implementation of MIMO fading simulation supporting 2×22 and 8×2 MIMO from the instrument and 4×4 MIMO with two additional RF sources.
The vector signal generator covers the frequency range from 100kHz to 3GHz or 6GHz and features an I/Q modulation bandwidth of 160MHz with internal baseband.
An interesting feature of the instrument is its touchscreen which allows users to control the instrument using a graphical user interface,
Rohde & Schwarz continues on its journey into the oscilloscope market, a relatively new market for the company having introduced its first scope only three years ago.
"The oscilloscope business has made good progress particularly in Europe and countries where the Rohde & Schwarz brand is know," said Steffen.
"In fact we are above expectations in these countries," he added.
"We still have to fight brand awareness issues in markets where we are not so well known," said Steffen.
"To expand our oscilloscope portfolio is a must," said Steffen. "There will be more products in the next 12 months."
The latest product introduction has added a logic analysis option to its mid-range RTM oscilloscopes and according to Steffen there are more scopes in the pipeline for this year.
The RTM-B1 logic analysis option adds 16 logic channels to the scope with a sampling rate of 5Gsample/s and memory depth of 20Msample.
Steffen recognised that the company still has to increase brand awareness in a number oscilloscope markets.
"We will not give up on this," said Steffen. "That is not the Rohde & Schwarz way."
In particular, the company will create a new range of low and mid-priced scopes which also incorporate its Hameg brand of low cost scopes.
"We will adopt a sales-orientated approach, combining Rohde & Schwarz and Hameg instruments under a new 'value label'," said Steffen.
"We will probably not go below €1,000 for our lowest priced instruments," said Steffen.
As well as addressing the trend for more affordable test instruments, Steffen said the company will also push the specifications of its high end systems, such as extending frequency ranges.
Examples of this include the FSW50, a 50GHz signal and spectrum analyser and the NRP-Z58 thermal power sensor which operates up to 110GHz.
The big plan for the privately-owned test company is to become more global in its business.
"The company has become more global in the last few years," said Christian Leicher, president and COO.
"We are becoming more global in our sales presence and in our R&D activities," said Leicher.
"We have opened an R&D centre in Korea and this year will add centres in China and the US," added Leicher.
Rohde & Schwarz has annual sales of around €1.8bn and 90% of these are outside Germany.
There is a plan to grow business in the key communications markets of China and the US.
The company is building two new headquarters and R&D centres in China and the US. It already has an R&D centre in Korea.
"We always situate R&D close to production. This is essential for the company," said Leicher.
"We carry out 20% of our R&D outside of Germany and we are increasing this," said Leicher.
The main reason, said Leicher, is a search for design talent. "We are adding talent to the company on a global scale," said Leicher.
Rohde & Schwarz believes it has the opportunity to expand that part of its activities which is outside its core wireless communications test business.
One area is the general oscilloscope market, including lower-priced instruments for education and services sectors.
Leicher said the company will continue to "invest heavily" in the oscilloscope business.
The company has also made acquisitions, including SwissQual, in the last two years to support its network planning, installation and operating systems for mobile operators.
Other important market sectors for the company are aerospace and defence. Leicher sees growth opportunities in the aerospace and defence markets in particular.
"I believe we can take market share here," said Leicher.