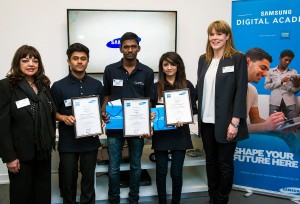 Executives at an employment networking event held in East Ham recently said there was a need to increase digital training to bridge the UK's ICT skills gap, it says. Businesses people and consultants met with students at the Samsung Digital Academy based at Newham College's East Ham Campus on 30 April.
Speaking to over 100 people at the event, Samsung UK's vice-president of human resources, Tess Smillie said:
"We find that customers don't just want to know about their new products, they want to know how they can work together."

"Samsung absolutely believes that digital skills are essential. This is a personal passion of mine and Samsung is behind the Academy wholeheartedly."
Philip Badman Newham College's Deputy Principal, Planning and Operations, said:
"The joint aim of Samsung UK and Newham College is to create a skilled, industry-ready pathway into the new technology sector. We want students to understand career opportunities and make appropriate choices."

"Samsung's involvement with this Academy is in line with the type of partnerships we develop with high profile companies to invest in local young people and provide career changing opportunities," said Keziah Man, Schools and Partnerships Co-ordinator from the regeneration charity City Gateway.
Image: Parin Bahl (right) and Tess Smillie give teenage students, Ikbal Ali, Vikrant Venkatesan, and Tina Bhudia awards for their work related to their course