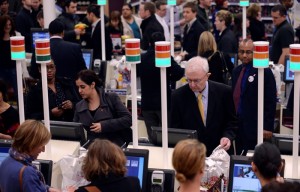 The supermarket chain is playing its cards close to its chest, refusing to comment on press reports or confirm whether the device will be a rebrand of existing hardware or created to suit its own purpose-built operating system. With tablet sales predicted to exceed those of PCs in 2014 this is a market opportunity the retailer cannot afford to miss.
The boom in tablet sales is having a knock-on effect on PCB and MPU production, but margins are being squeezed by pressure to keep prices down.
Tesco's Q1 sales report stated that a significant drag on like-for-like sales growth "continues to be driven by our disproportionate exposure to consumer electronics", so the supplier is unlikely to target a premium price for the device.
Recent press reports have suggested that the move was aimed at reviving the Tesco's books and DVDs business, which has been hit hard by the likes of Amazon, and Apple's iTunes download store. Blinkbox and e-books supplied via websites already set to be launched later this year that deliver rewards to a user's loyalty card record are likely to prove attractive to consumers.