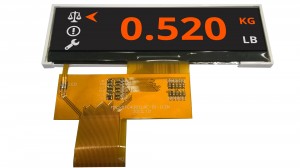 Flexible display manufacturing techniques are bringing display customisation processes previously only economic for high volume consumer designs within reach of much lower volume industrial and specialist electronic systems.
TFT displays of a custom size, and optically bonded displays for example, are becoming available with initial non-recurring engineering (NRE) charges a fraction of those associated with a full custom display and the minimum economic order is low.
For example, designers everywhere are keen to eliminate drab LCD character modules from their systems and replace them with colour graphic displays, often including touch control.
However, TFT displays are made in standard formats and until now, the cost of manufacturing a custom size has been uneconomic for most industrial applications.
Manufacturers now have flexible processes which make it is possible to cut standard small format TFT displays to a specified height, opening up new application areas.
For example, in rack mounted equipment a standard TFT screen is too high to fit into a 1U rack case.
The ability to customise displays means that standard 4.3-inch and 2.8-inch colour TFT displays can be cut to a specified height to suit the space available.
It is also possible to add touch-control and other features, and the initial NRE cost can be less than one-tenth the normal upfront charge.
Optical bonding is a well-established technology which dramatically reduces the reflections in displays by eliminating air gaps between the layers using an optically matched filler adhesive. Using this technique, reflections can be reduced from 13.5% of the incident light to just 0.2%. This makes a huge difference to readability, especially in brightly lit and outdoor environments.
Optical bonding also prevents condensation and improves mechanical shock resistance. In the past, many customers with lower volumes and /or price sensitive applications have dispensed with optical bonding for economic reasons despite its great and well recognised advantages.
Manufacturing processes now allow optical bonding to be offered on displays of 2.8-inch to 23.6-inch sizes with a very low minimum order quantity. The entire bonding process is carried out under one roof, at the site where the modules are manufactured ensuring both an extremely high standard of quality and a low cost of around one-third the normal price.
This optical bonding can be offered on display modules with integrated touch controllers, scratch resistant or anti-reflective coatings, or protected by vandal proof glass.
It is also possible to specify IP65/67 sealed panels for use in wet environments, as well as display panels that are compliant with PCI standards for payment terminals.
It is important to ensure this work is done to high standards to maintain the quality and integrity of the original display. It needs to be carried out at an ISO9001 accredited site, with the appropriate clean room facilities. The entire process resizing or optical bonding process is ideally carried out at a single site, often the same location at which the original display was manufactured.
It has been shown again and again that the user interface has a huge impact on the user's perception of their equipment, and is a real differentiator in the market. These new options that are opening up to the industrial market allow designers to raise their game in user interface design, introducing colour graphics screens, touch control and other enhancements. Volume and cost are no longer an excuse for a drab front panel.
Paul Mullen is sales director, Anders Electronics