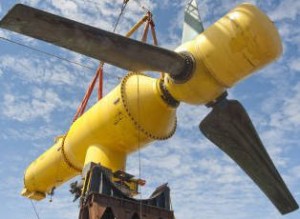 Bristol-based Marine Current Turbines (MCT) is a pioneer that was feeding tidal power into the grid long before most other tidal power companies even had a prototype.
In 2003 it installed 300kW Seaflow in Devon, then in 2008 its massive SeaGen prototype was lowered into Strangford Lough and, with some modification, it is still down there feeding 1.2MW into Northern Ireland's grid twice a day.
Siemens became a shareholder in MCT in 2010, and then bought the rest of the firm last year. It is now part of Siemens' Ocean & Hydro Business.
Norway's Hammerfest Strøm was another pioneer, connecting a 300kW prototype to the northern Norwegian power grid in 2004.
In December 2011, the company installed HS1000, a 1MW turbine, at the European Marine Energy Centre (EMEC) and provided grid power.
Last year, investor Andritz Hydro (an Austrian supplier of giant industrial pumps and hydroelectric generators) bought-in further and became the majority shareholder, changing the company name to Andritz Hydro Hammerfest. Other shareholders are Spanish utility company Iberdrola and Norwegian utility Hammerfest Energi).
EMEC is a test facility in Orkney, funded by various UK government bodies and the EU.
Tidal Generation, also Bristol-based, and established in 2005, is another of EMEC's clients, and another tidal turbine company that has been bought recently, twice.
Rolls-Royce bought it in 2009, and this year Alstom bought Tidal Generation from Rolls-Royce.
Partnered with the Energy Technologies Institute (ETI), it has a 500kW prototype (Deepgen) that started generating at EMEC in 2010, and which is to be replaced by a 1MW version this year.
All of the above turbines, and just about every other tidal turbine being proposed, have several features in common: They have a single three-bladed forward-facing horizontal axis rotor attached to a nacelle that acts as a pressure hull for the electrical generator and electronics.
In the Tidal Generation case, the rotor is 18m in diameter and the 22m-long nacelle weighs 150 tonnes. Most turbines have similar dimensions.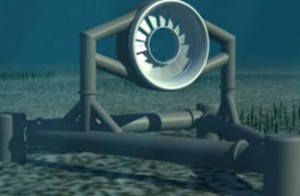 OpenHydro, Dublin-based and established in 2005, is an exception to the rule and is building novel centre-less turbines whose generator is wrapped around the periphery.
A 6m diameter 250kW version was installed at EMEC in 2006, and a 10m 1MW version has been tried in Nova Scotia's Bay of Fundy.
French military ship and submarine maker DNCS took a controlling share in OpenHydro in March.
Rather than buying into an existing tidal energy start-up, some big heavy engineering firms are doing their own development,
Kawasaki Heavy Industries stared out started out as a Tokyo ship builder in 1878 and begun work on tidal turbines in 2010 – once again its designs have a single three-bladed rotor and nacelle.
The firm signed up to a place at EMEC in October 2011 and plans to begin testing in 2015.
Some components for the 1MW machine are being designed and made in the UK, and tested in the Netherlands. Japanese funding body NEDO has selected Kawasaki to be the general contractor for another ocean power demonstrator off Okinawa.
Another giant, hydro-electric turbine maker Voith Hydro, is working with RWE Innogy through joint venture Voith Hydro Ocean Current Technologies on a 1MW horizontal axis turbine (13m diameter, 200 tonne) called HyTide which is due to be installed at EMEC this year. It already has a 330kW prototype running off Korea.
Atlantis Resources is a start-up that has yet to be bought, despite having a turbine in the waters off Orkney.
Originally an Australian start-up, it moved its HQ to Singapore in 2006.
US bank Morgan Stanley has already bought a chunk, in mid-2007, and the following year Atlantis acquired Morgan Stanley-owned UK firm Current Resources, now named Atlantis Resources (UK). Norwegian utility Statkraft invested in 2009 and EDBI of Singapore in 2011.
Its conventional single-rotor AR-1000 morphed from a 2010 1MW prototype called AK-1000 which was unique in having two three-bladed rotors, one at each end.
Not all tidal power companies are proposing sea bed-mounted turbines, and at least two are proposing floating designs.
Founded in 2002, one of them is Orkney-based Scotrenewables Tidal Power which has a 250kW prototype which was installed at EMEC earlier this year.
SR250, as it is known, is essentially a 33m long 100 tonne tube, built by Harland & Wolff in Belfast.
Two horizontal-axis two-bladed rotors are mounted underneath, each on an arm projecting down into the water. The arms are hinged, allowing the rotors to be folded against the hull of the craft when it is being towed, or in bad weather.
With the guy lines attached under the front of the tube, and the turbines at the back, it naturally aligns with the tide.
A 2MW commercial demonstrator called SR2000 is under development for 2017 when it will be installed in a prototype 10MW tidal farm.
The investors are the Scottish Government, shipping firm Fred Olsen, oil company Total, and the venture capital arm of Swiss power firm ABB.
Something similar has been designed by Netherlands ship builder Bluewater Energy Services
Its 24x40m BlueTec cruciform tubular float is turbine agnostic and can be configured to support two or four horizontal or vertical axis turbines under the side members of the cross.
It will initially test with an array of four 250kW vertical axis kobold turbines supplied by Ponte di Archimede of Italy. Project partners are Italian turbine developer Ponte di Archimede (PDA) and Scottish-based Environmental Research Institute (ERI).
OpenHydro is not the only exception to propeller-like rotors.
US-based Ocean Renewable Power Company and University of Oxford spin-out Kepler Energy are touting cylindrical lawn-mower-like designs for installation on the sea-bed. While PulseTidal of Sheffield has proposed an oscillating wing design.

Tidal turbines: Some of the challenges
The good thing about tidal turbines is that they can deliver a lot of power predictably twice a day.
However, to do this you need effectively to build an un-manned submarine that will work for five years under high pressure in a corrosive environment without needing any maintenance, and without leaking despite having a rotating shaft and an electrical connection.
It will need strong underwater foundations that have to be built cost-effectively in a fast tidal environment.
Its support structure will have to allow for maintenance: either by raising the entire generator assembly free of the water, or through quick-release so that it can be lifted off between tides.
On top of the generator, gearbox and power electronics expertise, in order to get a prototype into the water needs ship-building and off-shore technology.
The associated expense has been subsidised in many cases by grants from governments, including the UK's, and the EU.
With the technology demands, it is no surprise that the companies buying into tidal power come from the heaviest end of the engineering spectrum.