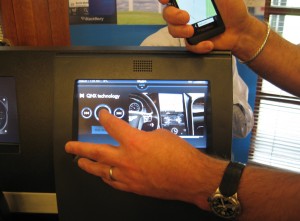 The Device Developers' Conference will take place in Bristol (May 20th), Cambridge (May 22nd), Manchester (June 3rd) and Scotland (June 5th).
The workshops will present a guide to developing "robust, real-time and feature-rich GUI-driven embedded systems".
Take the Electronics Weekly UK Salary Survey 2014 »
"We will be looking at the very latest developments in OS and GUI developments," said Michael Freer, sales manager at QNX Software Systems in the UK.
"We'll be working with a Freescale i.MX 6 reference platform, with all stages of the development being clearly explained, and with an open forum for delegate's questions," said Freer.
KDAB is a specialist in the Qt cross-platform application framework that is used for developing application software with a graphical user interface. KDAB will show how to deploy Qt 5 to the target and set up the host environment ready to develop with Qt 5 on the QNX Neutrino operating system.
"The presenter will then develop a small HMI application using C++ for a robust backend and Qt Quick 2 (QML) technology for the GUI. Qt Quick 2 provides a very simple and elegant way to harness the power of the GPU and OpenGL in order to provide the smooth user experience demanded in today's devices," said Freer.
This 2014 conference is to be sponsored by German debug tool company Lauterbach and UK-based embedded systems training experts Feabhas. Exhibiting companies and presenters will include Wind River, JTAG Technologies, LDRA, Pebble Bay, SDC Systems and Phaedrus Systems.