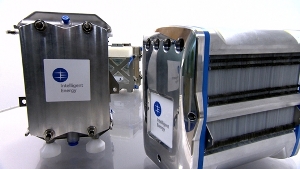 The £2.8m development project, supported by government agency the Technology Strategy Board, is a collaboration between Intelligent Energy, Dyson Technology, Ricardo and TRW Conekt.
Fuel cells are seen as a promising way to reduce carbon emissions from road vehicles. For this to happen it is important to increase power density, reliability and cold-starting.
According to Mark Garrett, Ricardo chief operating officer: "Fuel cells offer the prospect of an attractive future low carbon vehicle powertrain solution and are expected soon to be competitive against other advanced technologies for many current transport applications."
The work used Loughborough-based Intelligent Energy's fuel cell engines and achieved an increase in power density of more than 30%.
Power output was increased from 30kW to 40kW for the chosen test system without increasing system mass or size.
Also a new coolant module was developed to achieve cold start at temperatures down to -20°C.
Intelligent Energy improved the overall design and integration of the enhanced fuel cell system with Ricardo acting as the customer, providing an automotive specification and sign-off at the end of the project.
TRW Conekt validated the fuel cell modules through vibration and environmental testing, helping to identify and prevent potential problems.
Dyson Technology developed a high efficiency compressor, which is an important subsystem for air delivery into the fuel cell system, based on their digital motor technology. This was engineered to integrate into an existing stack enclosure, a component already designed for mass production.
"By bringing together the skills of one of the world's leading fuel cell developers, along with best in class automotive integration and systems development expertise, and the operational guidance of fleet operators, this project has moved fuel cell technology forward towards commercial application," said Garrett.