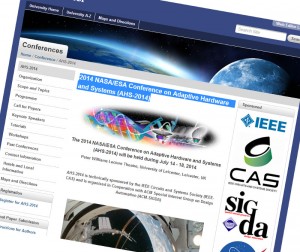 Professor Tanya Vladimirova from the University of Leicester's Department of Engineering, who is organising the conference, said:
"We are proud that have put together a strong multidisciplinary programme featuring state-of-the-art tutorials, keynotes, invited and regular sessions on challenging topics and a related workshop. It is going to be a truly international event with academics, researchers and industrialists coming from all over the world, e.g. UK, USA, Canada, France, Germany, Spain, Sweden, Norway, Belgium, Ireland, Netherlands, Singapore, China, Jordan, UAE, etc.

"We wish to acknowledge the help, support and hard work of the many individuals who made AHS-2014 a reality. We express our gratitude to the Programme Committee for their vital assistance in the refereeing process. We thank our sponsors: the NASA Jet Propulsion Laboratory, the European Space Agency and the Fraunhofer Institute for Integrated Circuits IIS. Last but not least, I wish to thank my research team and the Department of Engineering for the enormous contribution to the event. I am looking forward to a stimulating and thought provoking AHS-2014!"
AHS-2014 is co-sponsored by the IEEE Circuits and Systems Society (IEEE-CAS) and is organized in Cooperation with ACM Special Interest Group on Design Automation (ACM-SIGDA), and it will take place 14 – 18 July, at the Peter Williams Lecture Theatre at the University.
Keynote speakers include:
Philippe Armbruster, Head of Data Systems Division at the European Space Agency (ESA)
Andy Bradford, Director of Special Programmes at Surrey Satellite Technology Ltd
Avelino Martin, Head of Hardware Design Assurance at Airbus Defence and Space – Military Aircraft
Full details can be found online – 2014 NASA/ESA Conference on Adaptive Hardware and Systems (AHS-2014)