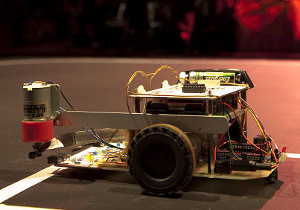 The university writes:
Derbots are independent robot vehicles, guided by a built-in mini computer or microcontroller brain, rather than a human controller. The same microcontrollers are in cars and consumer electronic products, and give machines a degree of 'intelligence'. Graduates who have taken part in previous challenges are now designing advanced control systems for companies including Jaguar Landrover and JCB.
Specifically, the Derbot design is based around either a PIC 16F873A, 18F242 or 18F2420, with DC motors driven by PWM, and  I2C bus for expansion.
"It's a fun contest which the students get a lot out of," said Tim Wilmshurst, University Head of Subject for Electronics and Sound, and originator of the Derbot design. "They all have a basic model Derbot but can then add modifications, such as light and sound sensors, and write their own computer programme."
"Each robot follows the same track laid out in the auditorium, this year seeking and retrieving a lighted object which it must find. It must pause at obstacles and deliver the object to one of several finish zones, sorting it according to its lighting pattern. Points are awarded for the machine's speed and accuracy."
"It's a game but one which also teaches students the technical and team skills they'll need in their future careers."
Follow the link above for some example builds.