If electronics is the cutting edge of new technology, UK university electronics research is the cutting edge of the cutting edge! Keep up with all the latest electronics-related research and development taking place across the UK.
Elektras: Cardiff Metropolitan scoops Rising Star New Engineer award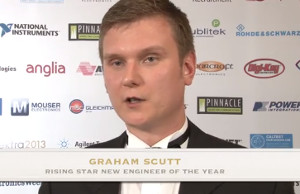 Another award from the recent Elektras is relevant to the Univerity Research blog, following Surrey Electronic Engineering Department scooping the Elektra Award for University Department of the Year.
The Rising Star New Engineer of the Year award, sponsored by National Instruments, was deservedly won by Graham Scutt, who has been working at Sedna LED and is also a graduate in product design at Cardiff Metropolitan University.
Video: Elektra Awards 2013 – Grosvenor House »
Photo Gallery: Elektra Awards 2013 Attendees »
Photo Gallery: Elektra Awards 2013 Winners »
He worked with the company part-time on an Emergency Light project for Zambia. This is an emergency medical treatment LED lighting system that is quickly deployable in rural areas under any conditions and can alleviate the problems faced.
We covered this – see Cardiff Met creates LED-based Omni Portable Medical Light
The judges commendation says:
The emergency light was developed aim to aid in emergency situations such as women in labour and car accidents, where people needlessly lose their lives because of poor lighting conditions in rural areas in Africa. Only a quarter of the sub-Saharan African population has access to electricity and according to the World Bank, 2013. Graham has since set up his own business in product design.

"The judges believe Graham is remarkable young engineer, who demonstrates not only technical skill and ambition; he has also shown initiative to implement his ideas in a way which could change lives around the world."
Congratulations to Graham!

Related posts