If electronics is the cutting edge of new technology, UK university electronics research is the cutting edge of the cutting edge! Keep up with all the latest electronics-related research and development taking place across the UK.
Broadband satellite comms for planes and trains with mVSAT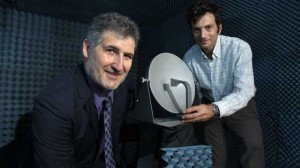 Heriot-Watt university has highlighted its work with Space Engineering, one of Europe's largest space companies, on the use of broadband satellite communication systems on planes, trains and other fast-moving platforms.
According to the university, the project has attracted €1.5million funding from the European Commission, with €1 million allocated to Heriot-Watt University to test and develop new, smaller mobile Very Small Aperture Terminals (mVSAT).
These will provide higher data rates and improved quality of service to users on mobile platforms exploiting the next generation of satellite signals, it says.
"We are concentrating on terminal technology that could be used to deliver high speed internet on mobile platforms such as train and airplanes, partly to keep up with the demand for ever more reliable accessibility to satellite signals, even when on the move," said Dr George Goussetis, Reader in Sensors Signals and Systems in the University's School of Engineering and Physical Sciences.

"Our work is at the forefront of civil technology and closely linked with Europe's first and the world's latest telecoms experimental payload, which was successfully launched in July 2013 on board the ALPHASAT satellite. Our vision is to deliver a technological edge that will maintain the global leadership of the European satcom industry."
Image: Heriot-Watt – Jean-Marc Villevielle, Chief Operating Officer of Space Engineering and Dr George Goussetis, Reader in Sensors Signals and Systems in the School of Engineering and Physical Sciences.
See also: Space: NASA beams HD video from Space Station via laser
See also: Quantum transmission sent through space

Tags:
broadband
,
Dr George Goussetis
,
mVSAT
,
satellite
Related Tech News
Surrey University has announced a successful bid for £5m of…more »
Share your knowledge - Leave a comment