Welcome, Minister, to the Robotarium…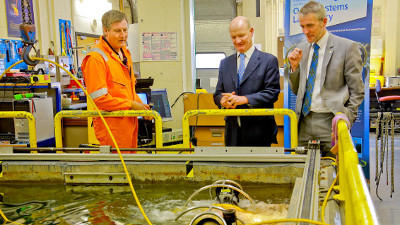 The Universities and Science Minister David Willets has given his approval to the £7.2m partnership researching the future of robotics. He visited the Robotarium at Heriot-Watt University this week.
It is a new facility run by EDU-RAS – a partnership between Heriot-Watt University and the University of Edinburgh – and it incorporates 50 investigators from 16 cross disciplinary research groups plus 30 industrial partners.
The idea is that the multi-disciplinary team brings together world-leading expertise, from a variety of fields including robotics, to produce robots capable of acting independently of human control.
"By backing new technologies and giving people the skills they need to succeed, collaborations between universities and business will maintain the UK's world class science and research base, ensuring the UK stays ahead in the global race," said Universities and Science Minister David Willets.

"As one of the eight great technologies, robotics and autonomous systems has the potential to revolutionise the way in which we do business across a range of sectors including space, manufacturing, renewable energy and transport systems."

"Robots which can act in partnership with humans, that can learn, interact and take decisions, will revolutionise our economy and society over the next 20 years," said Professor David M Lane, Professor of Autonomous Systems Engineering, School of Engineering and Physical Sciences at Heriot-Watt.

"We are working to help the UK realise its industrial potential in this revolution, by producing a new generation of 'innovation-ready' postgraduate researchers who are both technically skilled and market aware, fully prepared to lead UK innovation in this exciting and challenging field."
According to the university, it is estimated that by 2025 advanced robotic and autonomous systems (RAS) could have a worldwide economic impact of $1.7 trillion and $4.5 trillion a year, "with enormous impact in sectors including oil and gas, defence, renewable energy, healthcare, assisted living, transport, space automotive, manufacturing, nuclear, digital media and education".
Image: During his visit the Minister visited Heriot-Watt's Ocean Systems laboratory, which innovates, applies and teaches advances in autonomous systems, sensor modelling/processing, and underwater acoustic system theory/design for offshore, marine science, renewable energy and security applications. He saw autonomous underwater vehicles in action and had a chance to pilot a remotely operated vehicle under water.