Imperial College opens scheme for career researchers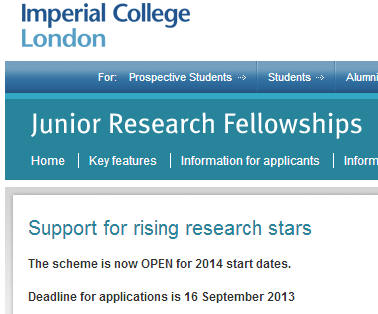 Now in its fifth year, Imperial College is launching its Junior Research Fellowship (JRF) scheme, to help "outstanding early career scientists establish their scientific independence and make the leap from post-doc to permanent lecturer". More than 70 fellows later, the scheme is now open for people wanting to apply for fellowships in 2014.
"In the past five years, our Junior Research Fellows have flourished," says Professor Maggie Dallman, Dean of the Faculty of Natural Sciences and champion of the fellowship scheme. "They have set their own research agendas, published an impressive number of papers, secured grants and other funding, and made a significant contribution to the scientific discourse of this university. Many have gone on to secure prestigious roles both at the College and elsewhere, where they play an important role in strengthening the College's extended network around the world."
As well as the freedom to focus on research, Junior Research Fellows benefit from a competitive salary with research and travel expenses, focused career support and development opportunities, says the university.
Imperial writes:
Applicants can identify two sponsors – one from Imperial and the other from the London Research Institute or the National Institute for Medical Research. Staff from these organisations will be moving to the Francis Crick Institute when it opens in summer 2015. Imperial is one of the founding partners of the Crick, and this joint sponsor arrangement forms part of the College's commitment to foster multidisciplinary research links with the new institute.
Students should apply by 16 September 2013 for a chance to join the scheme. Information on previous fellows, eligibility criteria and further information for applicants and sponsors is available on the JRF web pages.