UCL student builds #1 Apple's iPad app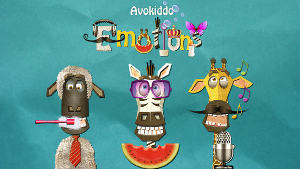 It must be the techy student dream – create a mobile application and then be singled out as the top iPad app out of 475,000 competitors on Apple.com.
This is the experience of Vagelis Katsantonis and Elpida Voulgari, who have an MSc in Virtual Environments from University College London and a Masters in Computer Studies at the University of Essex, respectively.
Currently their app Avokiddo Emotions is "#1 in Apple's list of favorite iPad apps" says the Apple website. It supports playful learning for kids. "A zany zebra, shy sheep, and jolly giraffe help kids discover emotions. Using over 100 props, kids can make animals laugh, cry, or feel any way they want."
The university writes:
The app has been featured on the main banner in the Education section of the App Store, designated as New and Noteworthy, and was handpicked by Apple's editors for the feature category 'Best for ages 5 and under.' It has also attracted praise from USA Today and The Guardian.
"Undoubtedly, our recent success with Avokiddo Emotions has its seeds in our 'Enlightenment' years at UCL," said Vagelis Katsantonis.