University of Aberdeen hosts TechFest STEM events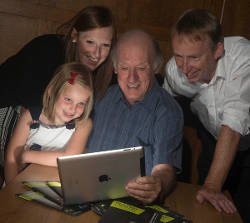 The University of Aberdeen will be hosting a series of events as part of "TechFest in September" – the annual festival of Science, Technology, Engineering and Mathematics (STEM).
According to the university, a wide range of activities aimed at all ages is set to attract around 25,000 visitors between September 13 and October 2.
Now in its 20th year, one of the aims of TechFest In September is to engage young people in the four main STEM subjects and encourage them to go on to follow a career which uses these skills. The event is supported by joint principal sponsors BP and Shell.
"We are delighted to be back this year to mark our 20th birthday with 20 days of both new and favourite events, which are all intended to get visitors excited about science, technology, engineering and maths," said Edwina Keown, deputy managing director of TechFest.
"Last year we ran the schools programme at the British Science Festival, which created a huge buzz around science subjects, so we are hoping to attract even more youngsters and adults than ever before.
"We have introduced a number of new events and venues this year and the public programme offers something for all different age groups and audiences, from the fun and light-hearted to thought-provoking presentations about topical subjects."
Image: TechFest in September, Aberdeen City Council