Bristol project seeks free access to quantum computing in the Cloud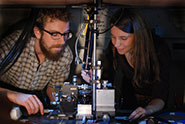 A project at Bristol University is looking to support free, global access to a miniature quantum processor chip via the Internet.
Professor Jeremy O'Brien has launched "Qcloud" with the goal to make the resources for quantum computing available for everybody, to "open up the possibilities of quantum computing to the next generation of engineers, mathematicians, scientists and entrepreneurs".
From Friday 20 September, states the university, the quantum processor housed at the Centre for Quantum Photonics at the University of Bristol will become the world's first open-access system. Researchers anywhere in the world will be able to access it remotely via the Internet. The website to use will be bristol.ac.uk/quantum-computing schools, where you can log on and access a quantum simulator (there will be user guides and manuals covering the basics of quantum computing).
"This technology has helped accelerate our research and is allowing us to do things we never thought possible," said project leader, Professor Jeremy O'Brien. "It's incredibly exciting to think what might be achieved by making this more widely accessible, not only to the brightest minds already working in research, but to the next generation. I hope that by helping schools to access this technology, and working with the British Science Association to provide educational content around quantum computing, we can achieve incredible things."

Professor Sir Paul Nurse, Nobel Laureate and President of the Royal Society added: "It is very exciting to see this kind of technology being made accessible, not only to research institutions, but to the next generation of scientists. The fact that we can give budding young talent access to some of the most advanced computing technology is something that we, as a nation, should be extremely proud of, and I wish the University Of Bristol the very best of luck with it"