Bristol speeds MPC cryptographic breakthrough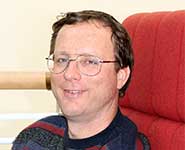 Bristol University is claiming a breakthrough in cryptography that could result in more secure computing.
It is collaborating with Aarhus University, of Denmark, in developing a protocol called SPDZ (as in "speedz") that implements a theoretical idea called "Multi-Party Computation", performing computations on secret data.
According to Bristol, the idea is to "enable two or more people to compute any function of their choosing on their secret inputs, without revealing their inputs to either party".
A practical example? One cited by the university involves an election – voters may want their vote to be counted but not want their vote made public.
Other possible applications include in finance, drugs and chemical industries, where computation often needs to be performed on secret data.
"We have demonstrated our protocol to various groups and organisations across the world, and everyone is impressed by how fast we can actually perform secure computations," said Nigel Smart (pictured), Professor of Cryptology in the University of Bristol's Department of Computer Science and leader on the project.

"Only a few years ago such a theoretical idea becoming reality was considered Alice in Wonderland style over ambitious hope. However, we in Bristol realised around five years ago that a number of advances in different areas would enable the pipe dream to be achieved. It is great that we have been able to demonstrate our foresight was correct."
The new research is to be presented at the 18th European Symposium on Research in Computer Security (ESORICS 2013) this week, by Bristol PhD student Peter Scholl from the Department of Computer Science.
Apparently the university is now starting to consider commercialising the protocol via a company Dyadic Security Limited. This is co-founded by Professor Smart and Professor Yehuda Lindell from Bar-Ilan University in Israel.