Engineering mentoring makes headway at Bristol University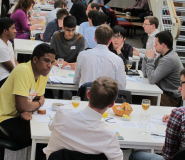 Bristol University is highlighting the success of its new mentoring scheme for engineering and computer science undergraduates. Mentors have been recruited from 70 companies to help guide 600 new first year students, offering a possible early step on the careers ladder.
The university's Industrial Mentoring Scheme was launched last year by the Industrial Liaison Office in the Faculty of Engineering.
"The many companies who are involved with the mentoring scheme demonstrate how keen organisations are to engage with our Engineering students," said Professor Nishan Canagarajah, Dean of the Faculty of Engineering.
"I'm confident that the opportunity to see at first-hand – and so early in their degree programme – the realities of the workplace will inspire students to embark on careers in engineering and IT."
The university writes:
The scheme links into the Faculty of Engineering's professional engineering unit to help students develop a professional engineering mind-set. As students progress through the scheme, they complete a simple personal and professional development plan to help them reflect on their experiences as they develop more awareness of the workplace and the range of industries they can work in.
Why would you participate in mentoring scheme? When asked why he had participated in the scheme, one engineer working for the Defence Science and Technology Laboratory (Dstl), said: "Providing future engineers with an understanding of the sorts of jobs that they may want to do is important to keep their interest and motivation in the subject and encourage them to work within engineering."
Further information:
The Industrial Liaison Office manages and develops relationships with the Faculty of Engineering's industrial partners across a range of activities. If you would like your company to get involved in working with the Faculty, please contact John McWilliams, Industrial Liaison Manager on john.mcwilliams@bristol.ac.uk.
Image: Bristol University – Faculty of Engineering students engage with their industrial mentors