SDN-enabled optical circuit switching at ECOC 2013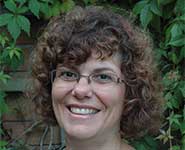 Bristol University is highlighting that a live demonstration of a hybrid packet-optical circuit switched software-defined network (SDN) will take place at the European Conference on Optical Communication (ECOC) event in London next week.
The technology has been developed jointly by the High Performance Networks Group at the University of Bristol and Polatis, specialists in "all-optical" switches. The aim of the work, says the university, is to demonstrate "the efficiency benefits of hybrid packet-optical circuit switching architectures for dynamic management of large flows in datacentre applications such as virtual machine migration".
"Unified software control of the physical layer is a key requirement for next generation networks," said Professor Dimitra Simeonidou, Head of the High Performance Networks Group (pictured). "Adding SDN support to Polatis optical circuit switches brings dynamic reconfigurability to optical systems and enables us to explore new programmable architectures for efficient, high capacity, telecom and datacentre networks."
OpenFlow is described as an emerging standard for software-defined networks that can be used to control optical circuit switch (OCS) elements for applications such as router bypass for high capacity data centres and management of dark fibre network connectivity. The Polatis series 6000 is an optical cross-connect that offers an embedded OpenFlow interface, enabling integration with SDN control planes.
"We are excited about the close collaboration with the University of Bristol, which has allowed us to accelerate our technology developments to support the emerging SDN market. Our customer response to the Series 6000 in the last twelve months has been phenomenal," said Gerald Wesel, CEO Polatis. "The addition of SDN support across our full product range brings dynamic optical layer connectivity with outstanding performance to the software-defined datacentre."
ECOC 2013 runs from 22- 26 September.
According to Polatis, the Bristol University team are leading researchers in the extension of SDN protocols to support dynamic reconfiguration of circuit-switched optical network infrastructure, enabling greater efficiency, scalability and flexibility of high-capacity service provision.
Image: Professor Dimitra Simeonidou, Head of the High Performance Networks Group