Nobel Prize awarded to Peter Higgs, Emeritus Professor of Theoretical Physics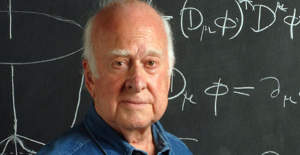 We wrote only recently about Emeritus Professor Peter Higgs, and mention must be made of his winning of the Nobel Prize in Physics
The Royal Swedish Academy of Sciences' award to Professor Higgs recognises his outstanding contribution to the theoretical work that led to the prediction of the Higgs boson particle.
The Nobel Prize in Physics was in fact awarded jointly to Professor Higgs and Professor Francois Englert, Professor emeritus at the Université libre de Bruxelles (ULB).
"I am overwhelmed to receive this award and thank the Royal Swedish Academy," said Professor Peter Higgs Emeritus Professor of Theoretical Physics. "I would also like to congratulate all those who have contributed to the discovery of this new particle and to thank my family, friends and colleagues for their support. I hope this recognition of fundamental science will help raise awareness of the value of blue-sky research."
You can read more on the Nobel website, where the organisation describes the "prize motivation":
"For the theoretical discovery of a mechanism that contributes to our understanding of the origin of mass of subatomic particles, and which recently was confirmed through the discovery of the predicted fundamental particle, by the ATLAS and CMS experiments at CERN's Large Hadron Collider".