Exeter, Flybe host aviation-themed Future Engineers event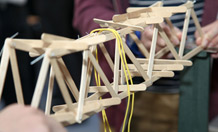 Become an aeronautical engineer for the day. That was the concept of this year's aviation-themed Future Engineers event, jointly organised by the University of Exeter, Exeter College, Flybe and the Fleet Air Arm Museum. It ran on Friday 13th September, bringing together 200 teenagers from 20 schools across the region.
The locations for the students taking part in the event were Flybe's Training Academy, the New Walker engineering hangar at Exeter International Airport and the University's Streatham Campus.
The university writes:
The combined initiative highlights the opportunities that engineering offers young people. It is designed to give students from years 9-11 (aged 14–16 years) the opportunity to get up-close to aircraft and their various components. The initiative inspires the students with hands-on practical learning experiences and encourages them to consider an engineering career.

Students visiting the University of Exeter discovered more about the science behind aeronautics and aviation and enjoyed a taste of the range of engineering studies available. They undertook activities in the University's engineering laboratories and experienced a viewing in the 3D visualisation suite.
A guide outlining the various career options offered in engineering by the respective parties was distributed to students and teachers attending the event.