If electronics is the cutting edge of new technology, UK university electronics research is the cutting edge of the cutting edge! Keep up with all the latest electronics-related research and development taking place across the UK.
Exeter launches app competition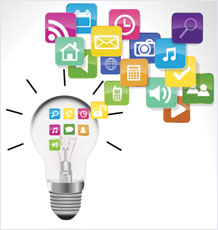 Maybe a new trend is emerging. Covering this Aston University story – Aston highlights homegrown mobile apps – I said it was good for universities to promote the work of their own staff and graduates when it came to mobile apps…
Well, Exeter is doing a similar thing. Its Research and Knowledge Transfer team and Students' Guild are launching a new competition for both students and staff to submit their ideas for smartphone and tablet apps.
The winning app ideas will receive funding for development by professional software developers and will be supported to launch, says the university.
The competition has three categories.
Commercial
Research enabling
Societal benefit
Full details can be found on the competition website »
"Many of us will have said to our friends at some point 'that would make a good app'. We're delighted to be able to give staff and students the chance to turn that dream into a reality," said Sara Hayes from the RKT team.

"We think this is a great way of supporting the development and wider use of specialist apps to encourage entrepreneurship, enhance research and facilitate new routes to impact and public engagement for everyone at the University."

Related Tech News
Share your knowledge - Leave a comment