Iridescent butterfly wings holds promise for photonics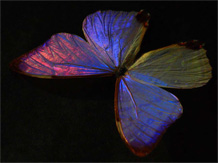 Does the flap of a butterfly's wings in Exeter set off a development in photonics?
Scientists at the University of Exeter have been studying the iridescent wings of the tropical blue Morpho butterfly. Apparently, it holds promise for a variety of applications, such as photonic security tags and industrial sensors
Exeter says it has been collaborating with General Electric (GE) Global Research Centreto to study the physical structure and surface chemistry of the butterfly's wings. The work has been published in the journal PNAS.
The nanostructures on the scales of the Morpho wings are responsible for the butterfly's metallic blue iridescence, and the study found that vapour molecules adhere differently to the tops of these structures than to the bottom. This selective response to vapour molecules, says Exeter, is the key to the range of possible bio-inspired technological applications.
"Understanding iridescence in butterflies and moths has revolutionised our knowledge of natural photonics," said Professor Pete Vukusic from Physics at the University of Exeter. "By using design ideas from nature we are able to work towards the development of applications in a range of different technologies. In this study the team discovered a new mechanism in photonic vapour sensing that demonstrates combined physical and chemical effects on the nanoscale."
Computer modelling work for the project was carried out by Tim Starkey, PhD student in Physics, from the University of Exeter.
Image: Morpho butterfly,courtesy of GE Global Research