If electronics is the cutting edge of new technology, UK university electronics research is the cutting edge of the cutting edge! Keep up with all the latest electronics-related research and development taking place across the UK.
Robot interaction research puts Nao humanoid centre stage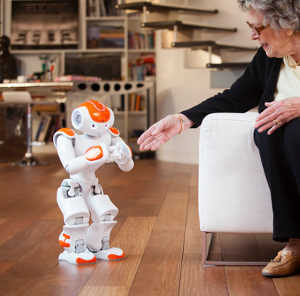 A £2 million, three-year project – "Being There: Humans and Robots in Public Spaces" – will be funded by the Engineering and Physical Sciences Research Council (EPSRC). It will examine how robotics can help to bridge a gap between the way people communicate in person and online.
According to the University of Exeter, it brings together researchers from Exeter, Bath and Oxford, Queen Mary University of London and the Bristol Robotics Laboratory (BRL) to look at the social and technological aspects of being able to appear in public in proxy forms, via a range of advanced robotics platforms.
At the heart of the project will be an advanced programmable, remote controlled humanoid robot, dubbed 'Nao' ("pronounced now"). It is developed by the French robotics company Aldebaran Robotics.
Nao will be taken into public spaces around Bristol and Bath to measure human interaction with robots. The research teams will aim to create a "living laboratory", states Exeter, using state-of-the-art technologies to measure how people respond to and interact with other people who are acting through the robot representative.
Nao's controllers will be able to see and speak through its eyes and mouth, while directing where it looks and walks.
"Being able to interact with others in public space plays an important role in the well-being of individuals and societies," said Professor Mark Levine of Psychology at the University of Exeter. "Sadly, many people are unable to do this – because they are ill, housebound or unable to travel. However, if a robot proxy can act for them – and can transmit back the full experience of being with others – we can help to reduce social isolation and increase civic participation.

"We are very excited by the opportunities that new technologies offer to help us extend our research on helping behaviour and social interactions in public spaces. We hope our work on human-robot interactions will contribute to the public spaces of the future."
Image: Aldebaran Robotics

Tags:
Professor Mark Levine
Related posts