Bike wheel image display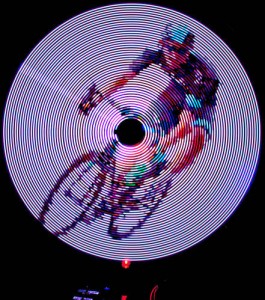 University of Glasgow students Ben Ferguson, David Millar and Jamie Nicol have created pictures in a bicycle wheel using a single strip of 48 RGB LEDs running along one spoke.
The LEDs are modulated as the wheel spins to create a circular picture.
Similar products cn be bought over the counter. This project was inspired by MonkeyLectric's wheel display, although the student version fills the whole wheel.
"The aim of these projects is to demonstrate all the skills they have learned during their degree, which includes a 6 month international industrial placement. I was really delighted with the outcome – the students were very talented and they worked extremely hard to achieve this impressive result," said Dr Tim Drysdale, who suggested and supervised the challenge.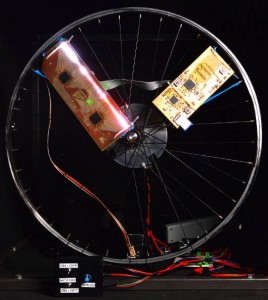 The original wheel, pictured, was demonstrated in 2013. A version built by electronics technician Andrew Phillips this year for public display will be on show at the University's student open days on 6th August, 3rd September and 25th October.
One of the two boards is a control processor, the other has the LEDs and driver chips.

Related Tech News
Share your knowledge - Leave a comment