Haptic feedback guides robotic device to help child handwriting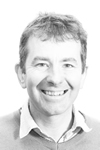 University of Leeds researchers are working on a robotic device to helps children to practise and improve their hand coordination.
It involves a computer game that is designed to help writing and uses haptic technology to guide the child's hand.
The research has been led by Professor Mark Mon-Williams (pictured top) and Dr Liam Hill at the University of Leeds, in partnership with the Bradford Institute for Health Research and colleagues at Indiana University in the United States.
"In trying to support a child with handwriting and coordination difficulties one of the major challenges teachers and occupational therapists come up against time and again is the limited time they have to work one-to-one with each child," said Dr Hill (right).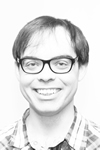 "In this respect haptic robotic technologies have huge potential efficiency benefits."
"They provide a means by which children can receive supported practise, at a level which adjusts to their growing abilities, without the need for one-to-one interaction with a therapist. Banks of these systems could be used simultaneously by multiple children in a clinic or in the classroom setting, under the supervision of a single overseeing professional."
Apparently the first UK pilot of the device has just been completed and it is deemed feasible for use in the classroom.
Read the university announcement »