Study of aircraft systems takes students to new heights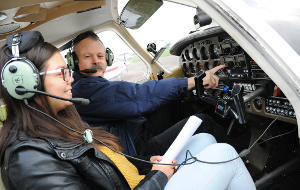 A third-year module on practical aspects of aircraft systems took students to new heights yesterday. Professor Chris Binns, of the University of Leicester's Department of Physics and Astronomy, and who also has a commercial pilot's license, took the controls of a Piper PA28 aircraft and flew the students himself.
"We believe it is very important that engineers develop an in-depth understanding in real applications of the engineering principles they are taught in lectures," Professor Binns says. "This is particularly true in aerospace engineering. We all put an enormous amount of trust into the design of aeroplanes and it is better that they are designed, maintained and repaired by engineers who have an intuitive feel for how they behave in practice and what a pilot demands of them."
The module, says the unioversity, will see three students at a time taken on one hour long flights from Leicester Airport to Coventry, during which Professor Binns will demonstrate the principles of navigation and flight controls. The plane used for the flights is equipped with a variable pitch propeller, retractable landing gear, autopilot and the instruments required to fly in Instrument Meteorological Conditions (IMC): that is, when low visibility makes flying by eye impossible.
The hands-on experience will be supplemented by lectures on instruments, autopilot, and navigation by radio, GPS and INS (Inertial Navigation Systems).
"The flight instruments, radio navigation electronics and autopilot systems that are presented in lectures will be seen working in practice so the students can see their importance and also their limitations in real situations," said Binns.

"In addition, the students will get a full training on the primary, secondary and tertiary effects of the flight controls so they will get an in-depth understanding of how the aircraft controls interact with each other. Finally they will get the experience of making measurements in the air, which they can analyse back on the ground to extract important parameters of aircraft performance. Of course, we also hope that they enjoy this part of their training! We have a fortunate set of circumstances in Leicester that allows us to offer this training at particularly low cost. We have a licensed airport with an excellent flying school just five miles from the city and they have been very supportive in setting up these flight practicals."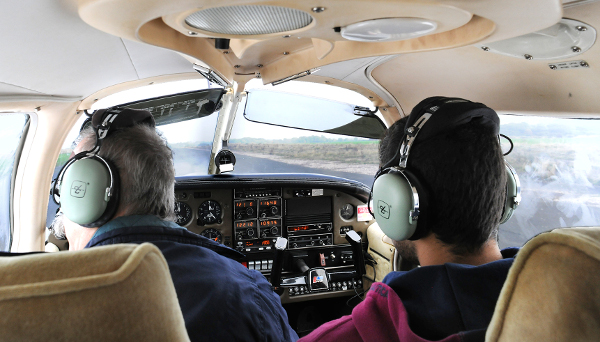 Images: University of Leicester