If electronics is the cutting edge of new technology, UK university electronics research is the cutting edge of the cutting edge! Keep up with all the latest electronics-related research and development taking place across the UK.
Chancellor to open Liverpool's Stephenson Institute for Renewable Energy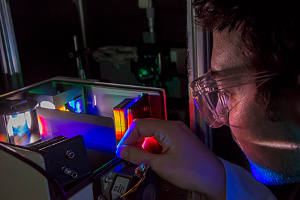 The University of Liverpool's Chancellor, Professor Sir David King, will open the University's £10m Stephenson Institute for Renewable Energy, reports Liverpool.
It is described as an interdisciplinary research centre dedicated to renewable technologies including solar electricity, biofuels and renewable chemicals. Researchers will explore issues like energy storage, energy conversion and energy distribution.
"It is an honour to have Professor Sir David King to formally open the Stephenson Institute," said Professor Werner Hofer, Director for the Stephenson Institute. "There is a pressing need to produce cleaner, more sustainable and alternative sources of energy as fossil fuel supplies diminish, the world population increases and the consequences of climate change become more apparent.

"The Stephenson Institute's multidisciplinary team of researchers is focused on developing future energy technologies and behaviours. Our state-of-the-art facilities and unique pool of research expertise are at the forefront of research and teaching in areas including photovoltaics, thermoelectric materials, photocatalysis and lithium and sodium battery storage."
Named after the 19th century engineering pioneers George and Robert Stephenson, the Institute brings together research and technologies from a mix of disciplines across the University: Chemistry, Physics, Electrical Engineering, Environmental Sciences, Engineering and Biology.
Sir David King will formally open the Institute before he takes up his new role as Foreign Secretary William Hague's new special representative for climate change, says the university, where he will lead the UK's overseas work on promoting low carbon growth.

Tags:
Professor Werner Hofer
Related posts