University of Manchester investigates light with Graphene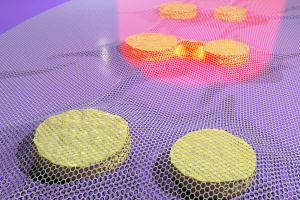 Graphene. Graphene. Graphene. The University of Manchester is certainly busy in this area of research.
For example, Graphene can apparently be used to investigate how light interacts with nano-antennas. This potentially increases the efficiency of solar cells and photo detectors, University of Manchester researchers have found, lead by Dr AravindVijayaraghavan.
The Manchester team, in collaboration with Professor Stephanie Reich at Freie Universität Berlin and Professor Stefan Maier at Imperial College London, have shown that graphene can be used to investigate how light interacts with gold nanostructures of different shape, size and geometry (pictured).
This interaction, through plasmon resonance, is the same phenomenon that gives colour to the gothic stained glass rose window of Notre-Dame de Paris, writes the university.
"When a sheet of graphene, just one atom thick, is placed on top of two gold particles next to each other, the graphene bends around the particles and gets stretched in the gap between the particles," said Dr Vijayaraghavan. "When light falls on the graphene, it is scattered to different extents from the strained and unstrained parts of the graphene."
In another part of research, Graphene is emerging as a versatile new surface to assemble model cell membranes mimicking those in the human body. There is potential for applications in sensors for understanding biological processes, disease detection and drug screening, believes the Unversity.
Writing in Nature Communications, researchers at The University of Manchester again led by Dr Aravind Vijayaraghavan (and Dr Michael Hirtz at the Karlsruhe Institute of Technology (KIT)), have demonstrated that membranes can be directly 'written' on to a graphene surface using a technique known as Lipid Dip-Pen Nanolithography (L-DPN).

Dr Vijayaraghavan's team at Manchester and their collaborators at KIT have shown that graphene is an exciting new surface on which to assemble these model membranes, and brings many advantages compared to existing surfaces.

Considering that it is difficult to accomplish this by studying live cells inside the human body, scientists have developed model cell membranes on surfaces outside the body, to study the systems and processes under more convenient and accessible conditions.
Finally, a European "Graphene Flagship" has officially set sail.
The mission of the initiatives – selected as one of Europe's first technology flagships by the European Commission in January 2013 – is to take graphene and related-layered materials from academic laboratories to society, revolutionise multiple industries and create economic growth and new jobs in Europe, says the University.
It writes:
The voyage of Graphene Flagship is divided into two separate phases: a 30-month ramp-up phase under the seventh Framework Programme (1 October 2013 – 31 March 2016) with a total European Commission funding of €54m, and a steadystate phase under the Horizon 2020 programme, starting 1 April 2016, with expected European Commission funding of €50m per year.