If electronics is the cutting edge of new technology, UK university electronics research is the cutting edge of the cutting edge! Keep up with all the latest electronics-related research and development taking place across the UK.
Using plant oils to generate power off-grid sites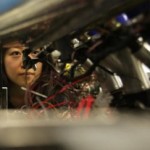 A Newcastle University led consortium, writes Steve Bush, is using plant oils to generate power, heating and cooling for off-grid buildings – homes, farms and businesses.
He begins:
Combined heat and power units have been used by large businesses for many years, using internal combustion engines to provide electricity via a generator, and heat from the engine cooling system and exhaust.

On small premises, turning on a pump or kettle can increase the electrical load several fold in a second. Attempts to cope with the now unmatched electricity and heat results in the system running inefficiently.
Leeds University, part of the consortium alongside Newcastle, the University of Ulster, and three Chinese universities, has also patented a cryogenic energy store.

Tags:
power
,
Professor Tony Roskilly
Related Tech News
Share your knowledge - Leave a comment