Women in STEM celebrated for Ada Lovelace Day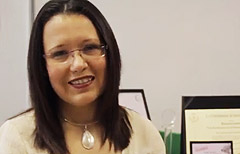 As part of Ada Lovelace day today (15 October 2013), Female scientists, engineers and mathematicians at the University of Sheffield are being celebrated. The aim is to raise the profile of women working in STEM subjects across the globe, says the University.
"Women are currently underrepresented in engineering – a fact that leads to a loss of talent and innovation," said Director of Women in Engineering, Professor Elena Rodriguez-Falcon. "Traditionally held perceptions of engineering are acting as a barrier to women entering the field and as a result, we believe there are far too few female engineers.

"Here at Sheffield, we are working to attract more women to study engineering by being an outstanding employer of female engineers. It's important the impact of women in STEM subjects is recognised and Ada Lovelace Day provides a fantastic opportunity to do just that."
Women in science, technology, engineering and math (STEM) at the University include:
• Professor Elena Rodriguez-Falcon (pictured): A founder of University of Sheffield Enterprise and Director of Women in Engineering, Elena helps transform people's lives with her engineering expertise, encouraging her students to create technologies to make people's lives easier – resulting in many groundbreaking inventions from writing aids for people with dexterity problems to walking frames for children with brittle bones.
• Professor Elizabeth Winstanley: An academic in the School of Mathematics and Statistics, Elizabeth's research explores areas such as black holes and quantum field theory in curved space, as well as black holes at the Large Hadron Collider and what neutrinos can tell us about quantum gravity. Her work provides a useful bridge between the disciplines of mathematics and physics.
• Professor Gillian Gehring: A physicist, Gillian studies magnetism, growing magnetic thin films and exploring magnetic and optical properties. Gillian's work to create new films that are both magnetic and semiconducting has the potential to generate a new kind of computer where information storage and data processing are combined in one material.
• Professor Sheila MacNeil: A professor of tissue engineering, Sheila's work has had a deeply practical impact on people's lives such as the development of MySkin, a treatment for skin replacement based on tissue engineering or work to deliver stem cell therapy to the eye in order to help the natural repair of eyes damaged by accident or disease.
"The progression of female academics is an important element of creating a University culture that is inclusive at all levels," said Dr Rhonda Snook, Chair of the Women@TUoS NETwork. "Ada Lovelace was a role model to women around the world so it is only fitting we celebrate today's stars in science, technology, engineering and maths and the impact they are having on the world we live in."