SETsquared incubation centre ranks second in world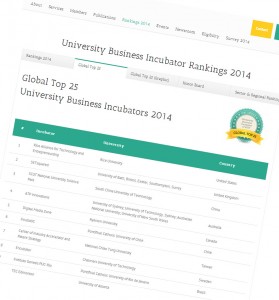 The University of Southampton is highlighting that its SETsquared incubation centre has been named the number one university business incubator in Europe and second best in the world.
The centre is part of the SETsquared partnership, a collaboration between the universities of Bath, Bristol, Exeter, Southampton and Surrey. It is intended to provide "services to accelerate businesses and boost enterprise". And note that start-up companies don't have to be based in one of the SETsquared centres.
The ranking – by the University Business Incubator (UBI) Index – places SETsquared second in the world behind The Rice Alliance for Technology and Entrepreneurship at Rice University, Houston.
The world's third leading incubator? SCUT Science Park at South China University of Technology.
The criteria involved in judging SETsquared so highly? According to UBI:
"Its client companies show exceptionally high survival and growth rate and generate higher number of jobs than the global average."
"It is an outstanding business incubator that provides exceptional quality to its client companies and produces growth companies and high economic impact."
"I'm delighted by the recognition in this year's UBI Index – it's an honour and validates our focus and commitment to entrepreneurs and the businesses that they create," said SETsquared Innovation Director Simon Bond.

"The high ranking also comes with responsibility – the UBI Index highlights that Europe's university business incubators have to work more effectively in order to compete on the world stage. SETsquared must now reach out to like-minded organisations to form partnerships and collaborations that add value for our entrepreneurs and client businesses."

Related Tech News
Share your knowledge - Leave a comment