Smartphone portable eye examination kit prevents blindness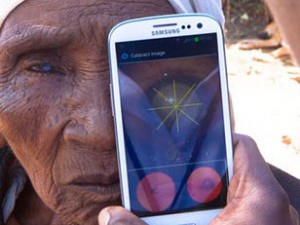 A portable eye examination kit – the Peek – has been created by scientists at the University of St Andrews, the London School of Hygiene & Tropical Medicine and NHS Greater Glasgow and Clyde.
It's currently being tested in Kenya as a potential tool to revolutionise the prevention of blindness in low-income countries, says the university.
The – a smartphone app and clip-on hardware – has been developed by Dr Andrew Bastawrous (London School of Hygiene & Tropical Medicine), Stewart Jordan, an independent app designer, Dr Mario Giardini (University of St Andrews) and Dr Iain Livingstone, at the Glasgow Centre for Ophthalmic Research, NHS Greater Glasgow and Clyde. Dr Jen Burr at St Andrews was instrumental in setting up the links that allowed the University to take part in the development of the device, states the University.
Stewart Jordan told Electronics Weekly that Android had been chosen for its open nature and low-cost. The app runs on Android 4.2+, and the phone used in the kit is the Samsung Galaxy S3 and Jordan says it was chosen during the project's development lat summer for the quality of it low light level sensor.
The clip-on hardware also used as part of Peek supplies detailed images of the patient's eye, specifically where the optic nerve joins the retinue. A hand-help ophthalmoscope, he said, would be a lot more problematic in supplying detailed images for processing.
"Patients who need it most will never be able to reach hospital because they're the ones beyond the end of the road, they don't have income to find transport so we needed a way to find them," said Dr Bastawrous.

"What we hope is that Peek will provide eye care for those who are the poorest of the poor. A lot of the hospitals are able to provide cataract surgery which is the most common cause of blindness, but actually getting the patient to the hospitals is the problem.

"What we can do using this is the technicians can go to the patients to their homes, examine them at their front doors and diagnose them there and then."