SMART space rover sets co-ordinates for West Wittering beach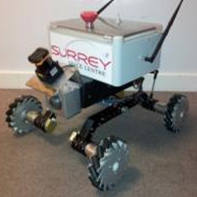 West Wittering beach in Sussex is set for field trials conducted by experts in robotics at University of Surrey. They are looking to test a range of problem surfaces that are apparently similar to those that would be faced by small planetary rovers in space.
Academics and researchers from the University of Surrey's Surrey Space Centre will be testing a prototype space rover – the SMART (Surrey Technology for Autonomous systems and Robotics) rover.
"The field trials aim to demonstrate unique micro-rover technologies that have been developed at the Surrey Technology for Autonomous systems and Robotics (STAR) Lab within the Surrey Space Centre," said Professor of Space Autonomous Systems, Yang Gao, who is running the trial.
"The micro-rover generally represents light weight, highly mobile surface vehicles for exploration of extra-terrestrial bodies including the Moon and Mars.
"Micro-rovers offer complementary solutions to the existing large rovers like Spirit or Curiosity of NASA, and are envisaged to play crucial roles in future planetary missions where they can be used as a scout for a large 'mother' rover or as a special sample collecting rover.
"The STAR Lab team has developed various enabling technologies to make micro-rovers viable space vehicles within many cost constraints in terms of size, weight and power.
"For example, low-cost autonomous navigation methods based on monocular vision will be tested on our rover named during the West Wittering field trial."
The Surrey Space Centre (SSC), a Research Centre of the Faculty of Electronics and Physical Sciences (FEPS) at the University of Surrey, is a Centre of Excellence in Space Engineering, whose aim is to underpin the technical development of the space industry through its research programmes.