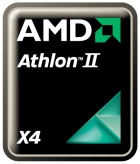 AMD is boasting the first sub-$100 Quad-Core CPU with the release of the Athlon II X4 (dubbed a "budget Phenom II X4″ by one reviewer).
To be precise, it is the X4 620, with a 2.6GHz core clock speed, and a X4 630, running at 2.8GHz, will appear later. The chip has 2MB of L2 cache, a 4000MHz HyperTransport bus, and uses the AM3 socket. Based on 1,000 unit quantities, it is priced at $99.
"By balancing the power of new AMD Athlon II X4 quad-core processors and the AMD 785G chipset featuring ATI Radeon HD 4200 graphics, AMD delivers smooth HD visuals2 and the foundation for a great Windows 7 experience," states the company in its announcement.
According to AMD, the 45nm processor, when used with AMD Mainstream Desktop Platform, can serve-up an amazing Blu-ray movie experience using less energy than a standard 75 watt light bulb4…
For a more objective review of the new chip see David Bayon's review on PC Pro:
"Called the Athlon II X4, it shares much of its architecture with the existing Phenom II. It's a Socket AM3 part with a 95W TDP (thermal design power), and its four cores each come with 512KB of L2 cache; the big difference from the Phenom II is the absence of L3 cache. This makes it more or less a budget Phenom II X4, so we were intrigued to see what effect that omission had on performance."
Also, read the TechSpot review by Steven Walton.