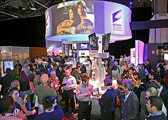 Here are some highlights from CES that caught my eye:
Qualcomm's Dual-core 1.5GHz Snapdragon 8X72 chipset is due by end of 2010, says Slashgear.
There was an appearance of a Dell Mini 5, an Android-powered 5in "entertainment" slate, reports PC Pro.
Intel prepping an x86-based system-on-a-chip: "the so-called 'Tolapai' unit will be based on Pentium M architecture, and pack 256KB of L2 cache and support for DDR 2 memory, along with a full compliment of integrated connectivity options, including PCI Express, USB, SATA, Gigabit Ethernet, RS-232 and a cellular link," writes Engadget.