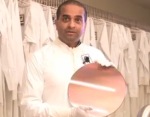 The 45nm Lynnfield chips are out of the door, but with September's IDF looming, Intel is turning the spotlight on its 32nm offerings, codenamed "Westmere" (that's "Nehalem" migrated to 32nm process).
The video below features Sanjay Natarajan, Intel's director of logic technology development. Described as a "rock star engineer", by Intel's Ken Kaplan on the IDF Connected blog, he talks about the first microprocessors built with 32 nanometer process.
As well as the 32nm process he also highlights the metric of gate pitch – how close you can put two transistors side by side, and ultimately how many you can fit on a chip. He reports advances to a gate pitch of 112.5nm, 30% smaller than on Intel's 45nm process.
The Clarkdale (desktop) and Arrandale (notebook) lines expected to start showing up in over-sized cardboard boxes before the end of the year, reports Engadget.
You can also read Intel's white paper – Introduction to Intel's 32nm Process Technology (PDF)